The ultimate kitchen helper - Multifunctional vegetable cutter made from food grade wheat straw
Apr 26,2023 | 杨帆
pink – twilight (dammerlicht.de)
A multifunctional vegetable cutter can be an essential tool in every kitchen. With this product you can improve your vegetable and fruit cutting skills and prepare various dishes quickly and easily. In this blog post, we will focus on the features and benefits of this product and how it can help you prepare healthy and delicious meals.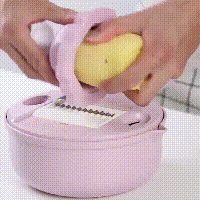 Made of high quality food grade and natural health wheat straw, this vegetable cutter is safe and environmentally friendly. It is dishwasher safe and therefore easy to clean, making it a great kitchen gadget. With the heat-treated stainless steel blades, you can easily get 5 different shapes of food through 5 blade combinations. The blades are extremely sharp and guarantee perfect results with every use.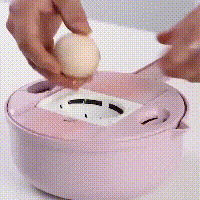 This vegetable cutter is very versatile and is perfect for making low-carb and healthy vegetarian noodles and noodles. In addition, it is also ideal for cutting firm vegetables and fruits and can be used as a grater, mandolin, vegetable chopper and slicer. This product is an excellent tool for creating professional-looking side dishes such as apple chips and onion rings, potato nests, elegant salads, vegetable pizza toppings and more. With this multifunctional tool you save valuable time and money.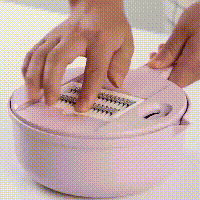 The unique design with an effective hand guard to protect your fingers from accidental nicks is another advantage of this product. The food container for collecting cut, grated food eliminates the need for a cutting board. All parts are easy to disassemble and easy to clean. Once dry, the vegetable cutter can be stored safely as all blades and hand guard fit into the container.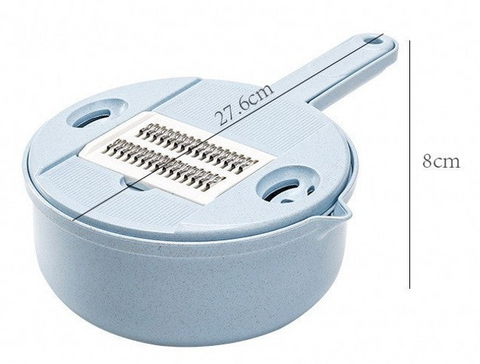 This multifunctional vegetable cutter is available in two different colors: pink and blue. It comes with 12 pieces, making it a great kitchen helper for any household. Please note that slight measurement deviations may occur due to manual measurement. Also, the actual color of the item may vary slightly from the color shown on the pictures due to the different monitor and light effect.
In summary, this multifunctional vegetable cutter is a great tool to improve your cooking and cutting skills and help you prepare healthy and delicious meals. It is safe, environmentally friendly and very versatile. With this product you save valuable time and money and improve the quality of your meals. Order today and start eating healthy and delicious.
Comment